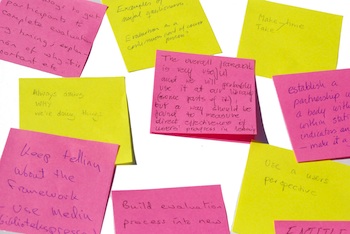 One of the most challenging aspects of content marketing is streamlining all of the great ideas that wake you up at 2 a.m. - or hit you in the shower - or flash into your brain during a meeting - into an organized, effective resource. Even if you're prepared with Post-It® Notes by your side to write down your thoughts or an app to record your brainstorm, the ideas still have to move from concept to fruition.
The good new is several online editorial tools have popped up for marketers to keep all of those inspirational moments in an organized, efficient place. This "place" is also known as an editorial calendar and the process for creating is a bit of a mystery for many marketers. The key is finding the tool that works best for you and your company.
Types of Editorial Calendar Tools
Here are 7 editorial calendar tools to check out, many of which are free or have a free trial to help you begin your experiment:
Divvy HQ (http://www.divvyhq.com/) - Divvy has a helpful feature called Parking Lot where you can store all of those great ideas that coming flowing to you throughout the day. It also allows for multiple calendars that can connect to a master to give you a birds-eye view of your content needs. The company offers a free 30 day trial and plans start at $29.99/month.
Kapost (http://kapost.com/) - Built specifically for content marketers, the platform lets you handle multiple contributors and includes an online payment system. It also incorporates a distribution and analysis system.
Wordpress (http://wordpress.org/extend/plugins/editorial-calendar/) - Wordpress has a handy editorial calendar plugin that helps keep blog posts organized and on schedule. This is a good solution if you are focusing on a blog, but it doesn't have many features for multiple users or incorporating other types of content. It is free and very easy to install.
Compendium (http://www.compendium.com/) - Compendium takes the entire content marketing life cycle into account, including editorial aspects of a content calendar and multi-level approval. It has a place to store topics, assign timelines, monitor tasks, and tracking results. The plans begin at $400/month.
Gather Content (https://www.gathercontent.com/) - Gather Content is more of an "in-the cloud" content collaboration tool that keeps all content in one place rather than relying on multiple versions of word docs being passed back and forth. It's in beta right now and free to try. It could be used as a storage space for ideas and drafts of website pages and blog posts and might work well combined with a very simple editorial calendar solution like Excel.
Strides (http://strides.do) - While designed to support light project management, it also has the ability to add deadlines, assign tasks and upload files. If a calendar view is important to you, this may not be the solution.
Excel – The simplicity of an excel spreadsheet should not be overlooked when considering the best editorial calendar options for your team. If your just getting started with content marketing and looking for an affordable, easy option, excel can be an easy solution.
Make Sure to Align with Your Strategy
As you begin to narrow down your requirements for an editorial calendar, bear in mind that every company has different needs depending on their content marketing strategy. What works for you company may be quite different than what the business next to you in the search results might need. Some questions to ponder include:
Do you need multi-user capabilities for a large team?
Do you need different levels of access (author, editor, administrator, etc.)?
What dates are necessary to track (i.e. author assignment, draft due date, editor review date, publishing date)?
How would you like to assign tasks to people?
Do you need a place to store ideas or files for collaboration?
Do you know of any other editorial calendar tools in the works? We'd love to take a look and test them out.
We have even more information about editorial calendars in our e-book Content Continuity: An Interactive Guide to Editorial Calendars now available in the iTunes store.